If you prefer graphical representation, you can use the Charts and Reports section, which will allow you to filter client attendance and sales of memberships. According to your selected subscription, you will be able to access information about:
Client attendance on individual days in a selected period
General statistics on registered clients
Distribution of attendance on individual days and by gender
All information corresponds to the selected period.

An example of a chart representing attendance in a selected period
If the menu on the left side does not offer the Statistics section (Charts and Reports), then your current subscription does not include this function.

Quick TIP!
The Memberships section allows you to filter sales of memberships, general financial statistics, or the popularity of membership types.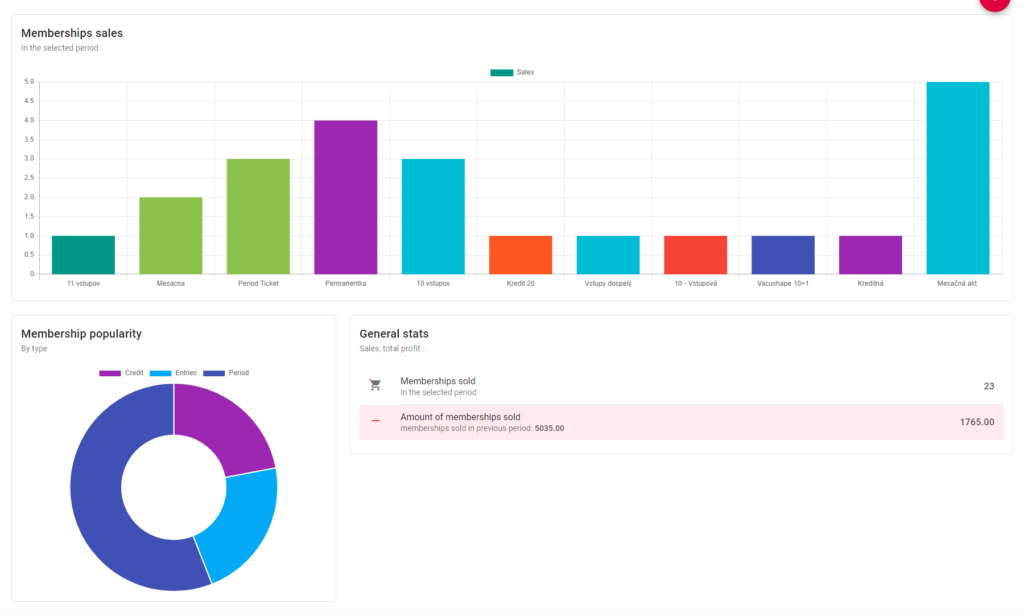 If you subscribe to the GYMIFY Booking System, you can access the client attendance statistics on individual events. These statistics can be displayed for all your clients in the section Statistics -> Charts and Reports -> Events. The system also offers statistics on individual clients, and it enables you to filter attendance on events in a selected period and your profits in this period.

You can access these statistics in your client's profile in the section Statistics – Events.

If you are interested in the sales of an individual client, you can access these statistics in the Sales section of the client profile.