As part of your selected GYMIFY subscription, you can send bulk messages or newsletters to your registered clients. This can be done through email or SMS messages.
Attention! Sending SMS messages will be additionally charged. The price will be displayed before the message is sent. Sending bulk emails is free as a part of your subscription.

Quick TIP!
Sending bulk SMS messages or emails is done through GYMIFY servers and email address due to higher deliverability rates, which means that the recipient will receive the SMS messages or email with the GYMIFY service as the sender. We plan to add the possibility of choosing the email address in the future.
Creating a New Bulk Message
If your selected GYMIFY subscription includes the bulk messaging function, you can create a new bulk message in the Marketing and Communication section.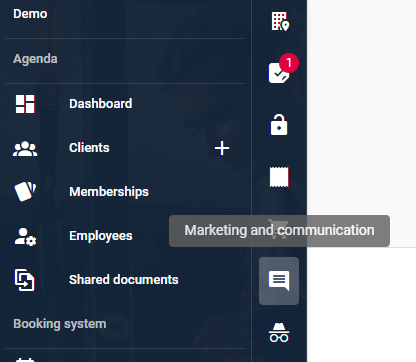 This section allows you to create a new bulk message and send it in the form of:
Email (free)
SMS message (additionally charged)
Email and SMS message (additionally charged)
The app also allows you to send messages only to a certain group of clients, such as clients with inactive membership, clients signed-up for an event in the booking system, clients of your own choice, or all clients.
When you send a bulk email, all the following information will be used:
The recipients, who will be designed as a blind carbon copy (i.e., the recipient will not see the other addressees)
The subject
The text of the message
The attachments
However, when you send a bulk SMS message, the system makes use of only certain information and sends the following:
The sender of the SMS message will be the GYMIFY service
The text of the message will be formatted so as not to include any potential diacritics (i.e., letters such as á, ě, ž etc.)
The text box Subject and Attachments will not be included.
Sending Bulk Messages to Clients in the Booking System
If you need to send a bulk message only to signed-up clients for a particular event, you can go to the event in the calendar and click the button "Send bulk message to signed-up clients".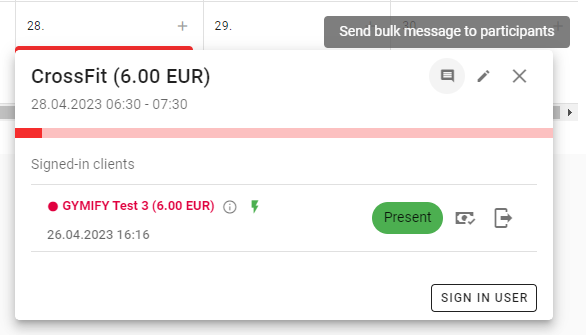 After you click the button, the bulk message will be created in a similar way as writing a bulk message to all clients. However, only the signed-up clients will be the recipients.
The email or SMS message will be sent only to the clients who included their email address or mobile number in their profile. The GYMIFY system does not ensure the validity of this information. Therefore, we recommend primarily using the free option to send email messages.

Quick TIP!
If you are interested in using the GYMIFY app for your promotions, read the following articles.